THE FANTASY BEHIND THE 2007 POE
San Francisco Orchid Society Hosts Annual Orchid Show
(San Francisco, CA, September 19, 2006) -- Transcend the boundaries of the imagination with the San Francisco Orchid Society as they present the
55th
Pacific Orchid Exposition
(POE), appropriately named '
Orchid Fantasia
,' for its wonderment of beauty and elegance. Over
150,000 orchids
, from all over the globe, in every color, shape and size will cast a spell on all horticultural connoisseurs and orchid enthusiasts alike. The 2007 orchid showcase and plant sale will be housed at
Fort Mason Center's Festival Pavilion
in
San Francisco, CA,
February 15-18, 2007.
The orchid comes from the largest family of flowering plants and grows in every region of the world except for Antarctica. The simple- structured orchid is known for its long-life span, revealing its intricate beauty for up to several weeks.
More than
50 nurseries
will be displaying their unique breeds and rare hybrid forms, while also giving orchid lovers the chance to purchase a
one-of-a-kind
treasure
to gaze at in the comfort of the home, office, restaurant or shop.
The 2007 San Francisco Orchid Society's Pacific Orchid Exposition will offer tours, educational demonstrations of the latest developments in orchid culture and award winning orchids, judged by the American Orchid Society (AOS). Preview night, Thursday, February 15, includes delicious appetizers and a wide array of local wineries showcasing their finest selections.
POE
is praised every year for maintaining its position as the
top 3 orchid show in the country
. Come celebrate the prestige this year as the San Francisco Orchid Society expects the colors to be brighter and hybrid breeds more outrageous. Let the imagination run wild as the fantastical nature of orchids is unveiled.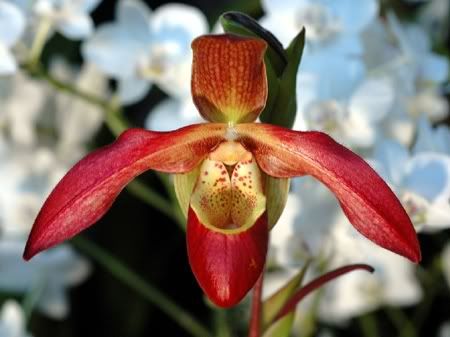 WHO:
The San Francisco Orchid Society
(SFOS)
WHAT: The 55th Pacific Orchid Exposition, '
Orchid Fantasia
'
WHERE:
Fort Mason Center's Festival Pavilion


WHEN:
• Gala Benefit Preview, Thursday, February 15, 2007, 6:30-10:00 p.m.
• Friday, February 16, 10:00 a.m.-6:00 p.m.
• Saturday, February 17, 9:00 a.m.-6:00 p.m.
• Sunday, February 18, 10:00 a.m.-5:00 p.m.
COST:
• Preview Night: $30.00 in advance, $35.00 at the door
• General Admission: $12.00, seniors (65+), disabled: $8.00
• Children 12 and under free when accompanied by an adult, except at the Gala Benefit Preview
INFO: Call 415.665.2468 or visit
www.orchidsanfrancisco.org